Expert Painters of Barrie would like to welcome you! We are a one-stop shop for furniture restoration and repainting. We have years of expertise working with various types of furniture and are confident in our ability to give your pieces the makeover they deserve. We can help you whether you want to freshen an old piece of furniture or fully redesign it. We provide a variety of services such as painting, staining, and varnishing. We also provide a broad range of colours and finishes to help you discover the right style for your house. Call us today to find out more about what we can do for you!
Expert Furniture Refinishing in Barrie ON
Furniture refinishing
requires a broad range of skills, equipment, materials, and expertise. Painted surfaces can diminish quickly if not properly maintained. Stains from everyday use can leave untreated woods looking old and tired. Furniture must be refinished for aesthetic reasons, but also to protect the underlying wood. Expert
Painters
of Barrie provides furniture refinishing in Barrie that revives old furniture and makes it look as good as new, without stripping away the existing finish and antique character.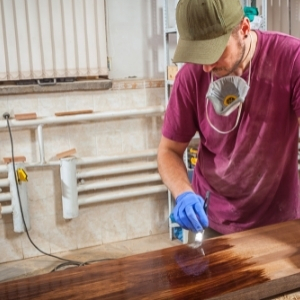 Furniture Refinishing in Barrie
Expert Painters of Barrie can refinish and restore furniture, which will bring neglected pieces back to life. The company's furniture refinishing in Barrie is done with the utmost care to not strip away the original finish and antique character.
Expert Painters of Barrie can also repair or replace worn hardware on all sorts of furniture, which restores its beauty and prolongs its life. The company can match missing pieces that have fallen off over the years and age cracks and scars to make the piece look as good as new.
Extend the life of your furniture with a simple refinish
Most people underestimate the importance of taking care of the furniture. Left to deteriorate in a garage or covered with sheets, old pieces can become home to pests and even rot away entirely. An expert refinisher can prevent that from happening with simple furniture restoration.
Renewing your old furniture in Barrie is also cost-effective. You don't need to buy new furniture when you can have existing pieces restored for only a fraction of the price. With Expert Painters of Barrie by your side, you no longer have to live with your old, worn-out furniture.

Professional Service
It is important to us that we provide our customers with a high quality of service. This begins by listening to your needs and finding the right solution for you. We will provide you with the best service at a fair price.
Quality Workmanship
Our painting company is insured, licensed, and bonded. We take the necessary steps to ensure that you will be completely satisfied with our services and your freshly painted walls!

Innovative Approach
As our customer, you will have direct contact with one of the owners of our company. We pride ourselves on being easy to work with and we are always available for any questions or concerns that may come up during your project!
Get In Touch
We understand how important it is to create the right look and feel in a space, which is why we are available for expert advice. As local experts on interior and exterior painting, our painters can achieve any color or look you desire.
We know how important it is to trust your experts when giving you advice. That's why we use only professional painters with the experience and knowledge to mend any surface, clean any space, or paint any color needed for your home improvement project.
For more information contact us at (705) 410-3739.
Furniture repainting and refinishing should be left to the professionals. Expert Painters of Barrie has years of expertise dealing with various sorts of furniture. We have the expertise and understanding to get the job done well, whether it's an antique item that needs to be refinished or a modern piece that needs a fresh coat of paint. Because we recognise that not everyone is familiar with the process of repainting and refinishing furniture, we provide free consultations. We'll sit down with you and answer any questions you have so you can make an informed decision about if this is the best option for you. Furniture refinishing and repainting can breathe new life into any item, and we're happy to work with you to create the style you want. Set up a free consultation with us today.